Welcome To Barrett Watson Parrots
Barrett Watson is a highly-respected professional breeder and published author. Based in Bury St Edmunds, Suffolk, Barrett has over forty years' experience, with an international reputation for rearing parrots and cockatoos of superb quality.
He has made numerous media appearances, and his birds have featured in
major films and TV productions.

This month's update...
An exciting time of the year as the breeding season is now in full swing, with new arrivals hatching almost daily! Many babies are already reserved for their new homes, but do text me for availability if you feel ready to put down a deposit on your special, new family member. Remember, you are always welcome to visit before you make any commitment; in fact, I recommend that approach.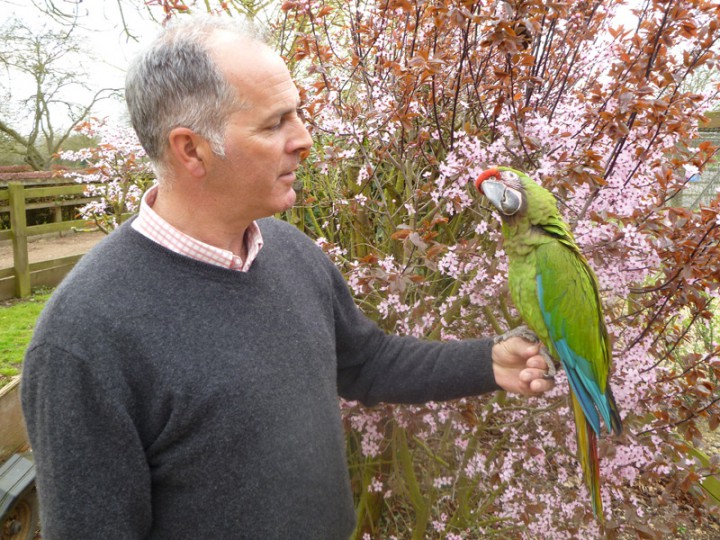 Parrot Breeding Specialists
Here at Barrett Watson Parrots we have a wonderful array of birds that I breed. Please note that I never have birds available immediately, but you can normally reserve one for collection in a few months' time upon payment of a non-refundable deposit.
I hope you enjoy reading more about these amazing and beautiful birds on my website; please mail me with any specific questions, but do check my FAQs first, as many subjects are covered there.
I am based in Suffolk, near IP33 1NR, and you are welcome to visit to see any bird which you are considering buying to make sure that it's right for you.
Best wishes
Barrett
SCAM ALERT
Anyone offering parrot eggs or newly-hatched chicks online is very likely to be a scammer, taking your money and sending you nothing. Parrot eggs simply do not travel; the embryos will almost certainly die, and even if they don't, newly-hatched chicks are very difficult to rear.